So I'll start off with the low so I can end on a high note.  What are the three most dreaded words for a math teacher?
Absolute. Value. Inequalities.
I've tried 147 ways to teach these.  This year I went with let's shade our number line first, then write the inequalities to solve.  Talked about kids on leashes at the mall can be five feet in front of mom or five feet behind.  Talked about restraining orders mean you need to stay five feet away from me in both directions.  Talked about how when we shade in between two numbers, we're going to write our expression in between the two numbers. Talked about how I've shaded all the numbers below or to the left or, you know, less than  -5, so I better write it as < -5 even though the original says >.  Sent them home with homework which maybe 10% did.  Next day: practice problems on individual whiteboards. (powerpoint file here)
Chaos ensued.  Like I never even mentioned number lines the day before.  Or that we've talked about writing inequalities when we've shaded between two numbers for two days before that.  Maybe I really did forget to mention the need for two equations yesterday?  That's probably it.  So let's see why what we did wrong is wrong. Let's see the correct way.  Let's go around to every group and have them say it needs to be < -7 instead of >.  Have every group tell me to put the expression between the two numbers for < since I've shaded between the two numbers.  Try another round.
Maybe 15% less chaos.  Finally towards the end of eighth period (third section of Alg II w/ Trig.  Which, yes, did I mention that?  Second time around to see these absolute value guys.), I gave up.  "Some teachers say a good way to remember is that greatOR means 'OR' and less thAN means 'AND.'"  I could feel Tina quietly weeping from a distance as I said it.  I even made sure to say "some teachers" so that they wouldn't think that I would ever say something like that.  What happened next?
"Oh, that makes sense now!!"  Maybe 80% got the next two examples correct, which was a vast improvement over the previous classes. "But they won't remember it six months from now!"  True.  But obviously they didn't remember my method 2 minutes later, so….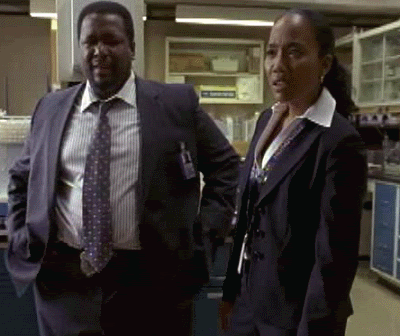 Scorecard: Conceptual learning: 0  Tricks: 1
High Point: Intro to Even and Odd Functions

We're describing graphs this week in PreAP Precal.  It's the first time  they've seen even/odd graphs, so I decided to let them try to figure it out by showing this totally awesome powerpoint.
You have to download it to appreciate the awesomeness of it.  I used some emphasis tools to make the reflect across the y-axis and rotate around the origin.  Then the next day we brought out our individual whiteboards and drew graphs based on descriptions. (File here) We were rockin' and rollin' and then I hit them with this one:
I know, it totally hurts my brain that f(6) is greater than k(-2) when it's never increasing.  I even told the kids I didn't get it the first time I saw it and said it was a "did you eat your Wheaties?" question.  (Of course this is when someone from central office popped in to observe and half the kids only have 2 points plotted.)  I even had one or two groups in each class come up with the correct graph!  One period was begging for more to try, but sadly I had to tell them no because we had to take a quiz so we could have enough grades in that category.  Ugh.  And next week we start on our shortened schedule so we have 5 less minutes in each class MWF.  Double ugh.
Final scorecard: Conceptual learning: 1 Tricks:1